LIVERPOOL ECHO "WISH"
Thank you to everyone who contributed - they raised a total of £388.24
We have now collected 30,000 WISH TOKENS (13/4/10). I would like to convey to all who have kindly supported this appeal my very, very sincere thanks. We now await the announcement of just how much we will share of the £50,000 that The Echo is donating to Charities.
I have been accepted for the "Wish List" and need your support to save the "Wish" tokens which will appear each evening in the paper from 15th February to 8th April with an extra "bonus token" at regular intervals. The more tokens I have the more money I will get. It will be used to re-furbish the toilets in the Church Hall and improve access. PLEASE HELP!!!! You can ring me on 922 4941 and I will arrange collection.
Pat Martin

On Sunday 23rd November, David, Bishop of Warrington blessed our Church Hall. It was a nostalgic occasion with a reunion of the Church Lad's Brigade who paraded to the Hall from the morning service in church - this was followed by a dance display by The Shine Theatre School and a faith lunch.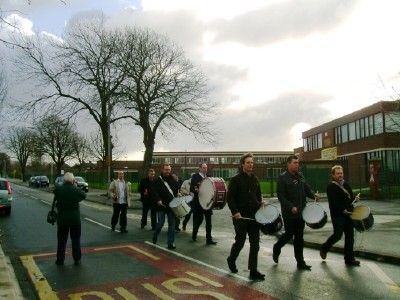 Click here for pictures of Blessing and CLB
Latest pictures (November 2008)
Work began on the renovation of St Philip's Church Hall on Monday morning 14th April 2008 when Pat Martin our Church Warden had the privilege of removing the first area of rendering!!!!!! Within the first week most of the exterior rendering had been removed and the ply boards fitted. The Hall is already looking much improved.
During the next 5-8 weeks we will see the insulation, stainless steel mesh and the outer rendering being put in place when we will then see a completely restored building. Follow progress by clicking on the links below.
Hall before renovation Picture (August)

Click to follow renovation progress
Click for more pictures

Click for even more
About our Church Hall
The Church Hall was opened in 1938 and through the years has seen thousands of people enter through the doors. Plays, concerts, wedding reception, parties, rummage sales, dog shows, fashion shows and many fund raising events. Also, the different organisations who use it each week now. The Guides, CLB, Fellowship, MU, Young Wives, Mens' Society and Sunday School have all met there. Even during the last war St Philip's Day School held classes there.
I was founder member of the Brownie Pack when it was formed as the hall opened. It has been a 'second home' from then to the present time, so I certainly have many memories of the hundreds of people I have worked with and spent time with during the past years.
Sadly, after 70 years the exterior is looking very shabby and is in urgent need of repair. The decision has been taken to refurbish the building starting on the outside and phasing the work. We are going to need a great deal of help financially and by using one's talents or expertise.
I am sure there are many, many folk who have special memories of occasions spent within its walls. Would you support "Friends of St Philip's Church Hall"?
If you are interested - and we certainly hope you are - please contact me on 922 4941.
Pat Martin