Woodland Garden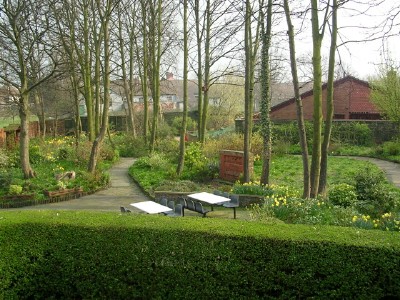 The Woodland Garden has been created on the site of the old vicarage which was demolished in 1963. Before this project it was completely derelict and overgrown - inaccessible and unknown to most local people.
It is a unique outdoor classroom and an oasis of natural beauty and peace in an urban area (near what has become one of the busiest trunk roads in Europe). This conservation area maintains insect, plant, tree, bird and pond life as well as sensitively adding appropriate species. Within it are seating areas for reflection and group study.
It has been designed primarily for Litherland school children. Every kind of local school is invited to use it - Primary and Secondary, Mainstream and Special Education, County and both Anglican and Catholic Church Schools. As well as studying the environment, some schools have already identified its potential for Art/Photography, English and Religious Education.
The Woodland Garden is ably maintained by Norman and his crew (Jack, Trevor, Joe, and Tom). You will find them working hard every Wednesday morning!
If you would like to learn more about the Woodland Garden, please contact Mrs Pat Martin, Church Warden on 0151 922 4941.