ST PHILIP'S MUSIC FESTIVAL


A BIG thank you to the following performers who made this event possible:
Octarium, Jo Housley, Alisha Carton, Jonathan Caren, St Philip's Music Group
and Guitar Group, Los Muchachos, Ludo and Chris Atkinson and to everyone who supported this event


Final figure £891 (revised figure) thanks to everyone's generosity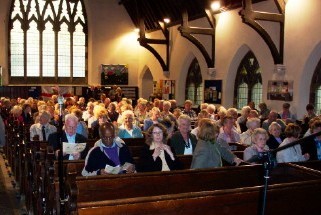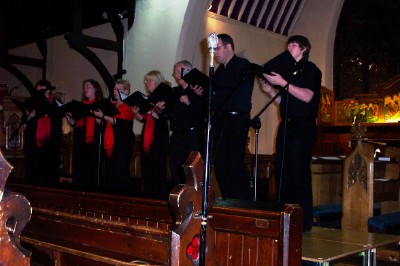 Octarium are a small, four part singing for pleasure group based in Merseyside, each member having several years choral experience in their own right. Over half of the group are accomplished and experienced pianists and/or organists, and span a range of choirs in and around Merseyside. Octarium came into being in 2005, created to perform one or two pieces at a local church concert. In 2008 the group finds itself increasingly in demand to sing at many different concert venues, with an ever-growing repertoire



We are sorry that the quality of the photos taken of Alisha, Chris and Jo's performances were not of good enough quality to include on this page. If anyone took photographs on the night that we can use on the web site, please ring Andrew
St Philip's Music Group (Jo, Norma, Beryl and Jonathan) lead worship on Sunday mornings in both modern and traditional church music and are always happy to welcome new members. The recently formed Guitar Group
(Jo, Diane, Pauline, Jonathan & Jim) made only their second public performance at the festival. If you enjoy singing or playing any instruments whatever your age or ability call Jo on 928 3902.

Jonathan Caren plays the keyboard or organ during Sunday worship, and is also a member of the Guitar Group. He attained grade 3 distinction in Electronic Keyboard from London College of Music. He also attends the annual organ course at Liverpool Cathedral.

Jo Housley started singing in church choirs at the age of nine. A choral scholarship enabled her to join a county girls' choir and take singing lessons. As a young adult, Jo was invited to join the Erleigh Cantors, a small chamber choir which toured Cathedrals and greater churches during academic holidays. Today Jo is an active member of The Liverpool Welsh Choral Union, leads St Philip's Music Group, and is a member of the Guitar Group

Alisha Carton has loved singing since a young age Her head teacher nominated her to have dinner with the Mayor last year, because of her singing. She attends Performing Arts School every Wednesday.

Chris Atkinson lives in Aughton, where she is a stay-at-home mum to her two daughters aged 3 and 4. She studied singing with Barbara Dix in Southport before pursuing a career as a solicitor. She is currently a member of the Ormskirk Music Society choir and the Cantique |Music Group.

Los Muchachos. Enqrique was born in Cadiz in Spain and moved to Liverpool 30 years ago. He played at Liverpool Airport as part of an event to launch Easyjet's route to Alicante. He is available to play at Spanish events in the area.