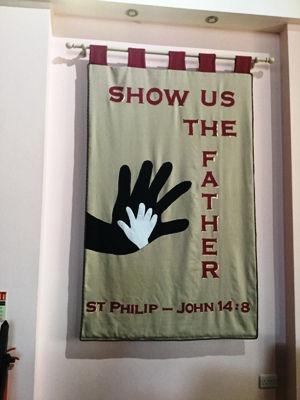 Our banner group is: Diane McHugh, Linda Minshull, Marie Curtis, Lesley Boyes, Julia Garner, Vicky Thomas, Julie Cookson, Karen Roberts and Andrea Gray. We meet together in church on Wednesdays at 7:30pm.
You are very welcome to come along
and join us
Bill, our architect volunteered his lovely wife, Izzy to come along and talk to us about her experience as a member of their church's 'Banner Group'. She encouraged us to get cracking on the creation of our very own masterpiece.
----------------------------
Firstly, we needed to come up with a design. I thought it might be good to design something based on our very own disciple, St Philip. What did St Philip famously do or say? We got our bibles out to check. We really liked the text of Philip's challenging words spoken in Chapter 14 of John's Gospel - "Lord, show us the Father and that will be enough for us." With this project being our first attempt, we decided to shorten this to 'Show Us The Father'. We then agreed that a depiction of our hand reaching out for our Father's comforting hand would be an apt representation of this phrase. Once we decided on appropriate colours in co-ordination with our new church décor, the material and the font for the lettering, we were ready to go.


Our beautiful, complete St Philip's Banner was hung on display in its purpose-built recess just in time for Alan to dedicate it during our Easter Sunday 2017 service.
We're very proud of our achievement for a first go. As well as producing something beautiful, the fellowship we enjoyed has been second to none. We're a mixture of ladies who didn't necessarily know each other before but we've shared many laughs and some tears along the way and now I believe that we're firm friends.
We are raring to start our next project which may or may not be the creation of something to decorate (what I understand to be called), the altar cavity i.e. the lit space under the main altar table.